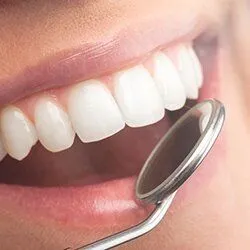 BEAUTIFUL, DRAMATIC RESULTS IN JUST TWO VISITS
Very few people are born with perfect teeth, but that doesn't mean you can't have the smile you've always wanted. Regardless of what type of imperfections you have, porcelain veneers in Gainesville are an excellent way to make dramatic changes that will help you smile with confidence. The high-quality veneers we provide at D Smiles Family Dentistry are not only beautiful and long-lasting but also the best way to get an instant smile makeover. Contact our office today if you'd like to schedule a consultation and find out how porcelain veneers can help you!
WHAT ARE PORCELAIN VENEERS?
Porcelain veneers are thin sheaths of porcelain that are bonded to the front surface of your existing teeth. Done in just two visits, they correct a variety of flaws at one time instead of requiring multiple procedures. Veneers are sometimes called "instant orthodontics" because of their ability to correct minor gaps and crowding without the need for braces.
Veneers are designed to look very natural. Dr. Do will work with you from the start to make sure you get the results you're after, and that the color, size, and shape blend in perfectly with the rest of your smile.
WHAT KIND OF FLAWS CAN THEY CORRECT?
Porcelain veneers are an excellent way to conceal all of the following types of flaws:
Small or oddly-shaped teeth
Minor gaps and crowding
Chips and cracks
Severe stains or enamel defects such as pitting
Worn down or uneven teeth
ARE YOU A GOOD CANDIDATE FOR PORCELAIN VENEERS?
Porcelain veneers are a great choice for many people. With that said, Dr. Do's goal is to make sure your smile is healthy and beautiful, so she'll make sure you have reasonably good oral health before making a recommendation. For example, if you have cavities or gum problems, she'll want to address those issues first. She'll also discuss the importance of good oral hygiene to keep your veneers looking great over the long-term.
THE BENEFITS OF PORCELAIN VENEERS
As a cosmetic dentist, we often recommend veneers because of the many benefits they provide, including:
Porcelain veneers are fast and allow you to transform your smile in just two visits.
Porcelain is an ideal material because it's durable and stain-resistant. That means you won't have to worry about your new smile being easily stained by coffee, red wine, etc.
Veneers have the ability to correct multiple imperfections with a single procedure.
Porcelain also reflects light the same way natural teeth do, so it won't look fake or out-of-place.
HOW SHOULD YOU MAINTAIN YOUR VENEERS?
In addition to wearing a custom-made nightguard if you clench and grind at night, you should avoid chewing on ice, hard candies, pens, etc. And if you're eating something hard or crunchy like carrots, cut them up into smaller pieces beforehand so you don't have to bite directly into them with your front teeth.
For more information on veneers in Gainesville, VA, contact D Smiles Family Dentistry. Call (571) 261-9038 for an appointment today!