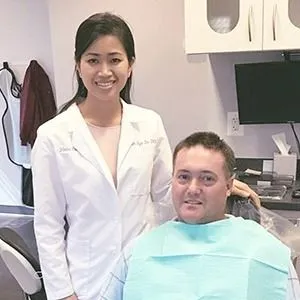 A healthy smile is a wonderful thing, and at D Smiles Family Dentistry, we partner with patients to achieve and maintain their healthiest smiles for a lifetime. Starting with regular checkups and teeth cleanings, we will do our utmost to help you preserve your naturally healthy, beautiful smile. Our Gainesville dentist and team provide dental care for patients of all ages, and we are happy to provide preventive dentistry services for patients from all surrounding communities including Haymarket and Manassas. Contact us to find out more or schedule an appointment today.
CHECKUPS & CLEANINGS

Great oral hygiene is the foundation of every dental care routine. Every patient is different, but preventive dentistry appointments every six months are an important part of dental care for everyone we treat. These regular office visits give our team the opportunity to partner with patients to ensure they keep their smiles whole and healthy.
LEARN MORE ABOUT CHECKUPS & CLEANINGS
DENTAL SEALANTS

As the name indicates, dental sealants seal out decay-causing bacteria and plaque. Even the most diligent patients may not be able to remove bacteria from the tiny crevices and pits in tooth surfaces, but with dental sealants, even those difficult to clean areas are safe. Best of all, with one application, dental sealants remain in place protecting your smile for years.
LEARN MORE ABOUT DENTAL SEALANTS
MOUTHGUARDS / SPORTSGUARDS
If you play a sport where your smile may be damaged by other players, sports equipment, or hard surfaces, you should be wearing an athletic mouthguard during all practices and competitions. Over the counter varieties are available, but most people find the custom guards we craft to be much more comfortable.
TMJ/BRUXISM THERAPY
Teeth grinding and clenching (bruxism) and dysfunction of the temporomandibular joints (TMJ) may not seem to have much in common. In truth, they aren't always related, but they do share treatment. Nightguards are custom crafted occlusal appliances that protect teeth from unconscious damage caused by nighttime teeth grinding and clenching. Patients with bruxism may be treated with a simple, comfortable appliance that places a protective barrier between the rows of teeth. Those with TMJ dysfunction will receive occlusal splints that position the jaw in the ideal location to ensure comfort and prevent unnecessary jaw movement.
ORAL CANCER SCREENING
Oral cancer claims one life every hour, and more than half of those diagnosed this year will not live more than five years beyond diagnosis. With dramatic statistics like these, it should come as no surprise that our team considers oral cancer screening an integral part of every dental checkup in our practice. The process is quick and completely painless. Most patients don't even notice we've completed this screening, but this unobtrusive procedure might just save a life.
CHILDREN'S DENTISTRY
We know how important your child's health is to you, and at our Gainesville dental office, we'll do our utmost to keep your little one smiling. We offer a variety of dentistry services geared toward helping kids develop healthy teeth and gums. Additionally, we take the time to make sure children feel comfortable and free from stress and pain in our office. We want to help kids learn to love visiting the dentist and establish great oral health and hygiene habits for life.
LEARN MORE ABOUT CHILDREN'S DENTISTRY
GUM DISEASE TREATMENT

Periodontal disease, better known as gum disease, occurs when plaque or tartar buildup at the gum line irritates and breaks down the supportive soft tissue and bone structure that surrounds teeth. If we're able to catch this disease in its early stages, called gingivitis, more frequent professional teeth cleanings may be effective in restoring oral health. Once the disease reaches the more severe stage, called periodontitis, we'll need to recommend more advanced treatment options. This can include scaling and root planing. These treatments are used in combination to remove plaque and tartar buildup and smooth tooth roots to prevent future buildup. We may also use antibiotics to reduce the amount of plaque-producing oral bacteria. Following these advanced treatments, patients will likely still need to visit our office for more frequent professional teeth cleanings.